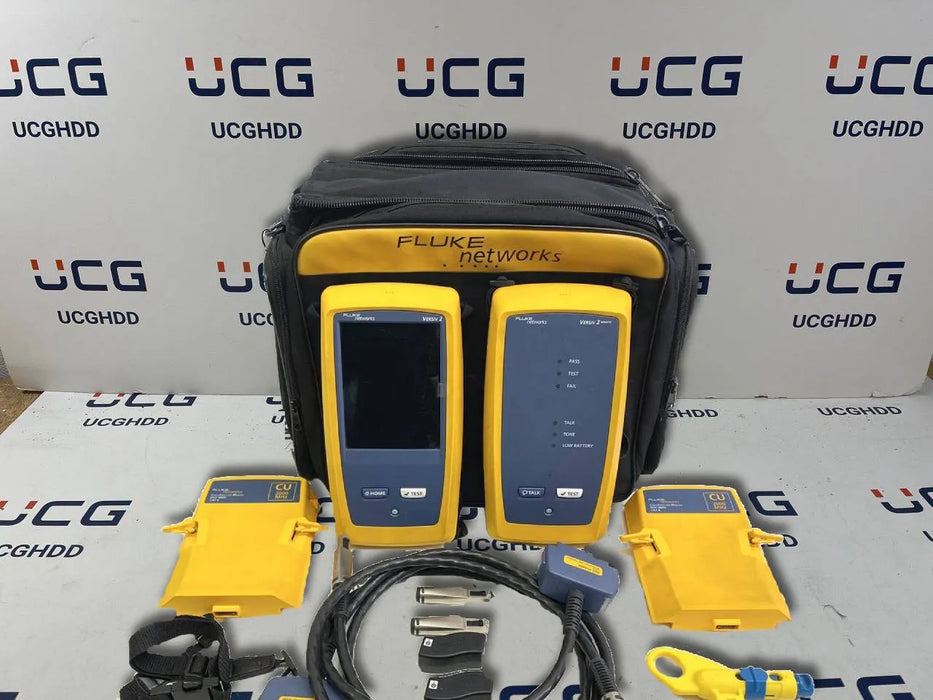 Used Fluke DSX2-8000 Versiv Cat6a Cat8 LAN Cable Analyzer. Stock number: FL8000
Original price
$ 12,000.00
-
Original price
$ 12,000.00
$ 12,000.00
-
$ 12,000.00
Current price
$ 12,000.00
Package includes:
Used 1 Versiv Mainframe & Remote
Used (2) DSX-8000 CableAnalyzer Modules
Used set of Cat 8/Class I Permanent Link Adapters
Used set of Cat 8/Class I Channel Adapters
Used (2) Headsets
Used (2) HandStrap
Used (2) Shoulder Straps
Used Carry Case
Used USB Interface Cable
Used (2) AC Chargers
Used (2) Universal Couplers
Used (2) AxTalk Terminators
Description:
The Fluke Networks DSX-8000 copper-testing CableAnalyzers are part of the Versiv family of cable certification products. It consists of the Versiv mainframe, remote units, and two copper certification modules.
Financing:

Apply for financing. Low monthly payments.
We accept trade-ins:
We make trades local dealers cannot match. Trade up, trade down with cash-back, or sell your used equipment. Contact us to see what we can do for you!
Warranty:
We offer 30 day warranty. Take the stress out of buying used equipment.
Next-day delivery within USA:
Avoid downtime. Request one-day delivery and get locating package the next day.
We ship worldwide:
We ship worldwide and offer flexible international shipping rates. We work with the freight forwarder of your choice or help you to choose the most suitable one.
Specifications for DSX2-8000:
Copper Certifications
Category 6A / Class EA Test Time
8 Seconds
Category 8 / Class I/II Test Time
15 Seconds
HDTDX/HDTDR Diagnostic Test Times
~3 Seconds
Internal Memory
~5,000 Cat 8 with plots
~12,000 Cat 6A with plots
Level V Accuracy
1 GHz
2G Accuracy
2 GHz
Resistance Unbalance Measurement
Yes
Shield Integrity Check
Yes
TCL Measurement
Yes
ELTCTL Measurement
Yes
CDNEXT Measurement
Yes
CMRL Measurement
Yes
Built in Alien XTalk Module
Yes
Channel Adapter
2 GHz Range
Permanent Link Adapter
2 GHz Range
Environmental
Operating Temperature
32°F to 113°F (0°C to 45°C)
Storage Temperature
-22°F to 140°F (-30°C to 60°C)
Operating Relative Humidity (% RH Without Condensation)
0% to 90%, 32°F to 95°F (0°C to 35°C)
0% to 70%, 95°F to 113°F (35°C to 45°C)
Vibration
Random, 2 g, 5 Hz-500 Hz
Shock
1 m drop test with and without module and adapter
Safety
CSA 22.2 No. 61010, IEC 61010-1 3rd Edition
Operating Altitude
13,123 ft (4,000 m)
10,500 ft (3,200 m) with AC Adapter
EMC
EN 61326-1
General Specifications
Autotest Time
Full 2-way Autotest of Cat 5e or 6/Class D or E: 7 seconds Full 2-way Autotest of Cat 6A/Class EA: 8 seconds Full 2-way Autotest of Cat 8: 16 seconds
Support Test Parameters
Wire Map, Length, Propagation Delay, Delay Skew, DC Loop Resistance, Insertion Loss (Attenuation), Return Loss (RL), NEXT, Attenuation-to-crosstalk Ratio (ACR-N), ACR-F (ELFEXT), Power Sum ACR-F (ELFEXT), Power Sum NEXT, Power Sum ACR-N, Power Sum Alien Near End
Xtalk (PS ANEXT), Power Sum Alien Attenuation Xtalk Ratio Far End (PS AACR-F)
Input Protection
Protected against continuous telco voltages and 100 mA over-current. Occasional ISDN over-voltages will not cause damage
Display
5.7 in LCD display with a projected capacitance touchscreen
Case
High impact plastic with show absorbing overmold
Dimensions
Main Versiv unit with DSX module and battery installed: 2.625 in x 5.25 in x 11.0 in (6.67 cm x 13.33 cm x 27.94 cm)
Weight
Main Versiv unit with DSX module and battery installed: 3 lbs, 5oz (1.28 kg)
Main Unit and Remote
Lithium ion battery pack, 7.2 V
Typical Battery Life
8 hours
Charge time
Tester off: 4 hours to charge from 10 % capacity to 90 % capacity
Languages Supported
English, French, German, Italian, Japanese, Portuguese, Spanish, Chinese, Korean, Russian, Traditional Chinese, Czech, Polish, Swedish, Hungarian
In stock and job-site ready. Package components available for individual sale. Overnight shipping available.

Order Now By Phone Call: 727-492-6587
We make trades local dealers cannot match