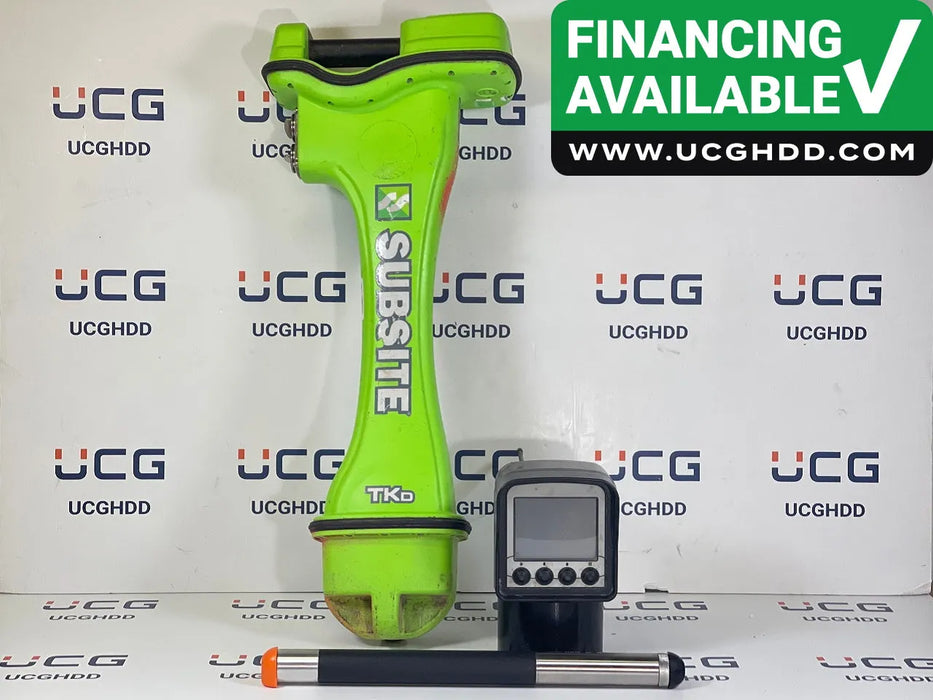 Used Ditch Witch Subsite TKD Guidance System (Locating Package). Stock number: Z837
Original price
$ 12,500.00
-
Original price
$ 12,500.00
$ 12,500.00
-
$ 12,500.00
Current price
$ 12,500.00
Financing:

Apply for financing. Low monthly payments.
We accept trade-ins:
We make trades local dealers cannot match. Trade up, trade down with cash-back, or sell your used equipment. Contact us to see what we can do for you!
Warranty:
We offer 100 day warranty. Take the stress out of buying used equipment.
For sale used Ditch Witch Subsite TKD Guidance System Package:
Package Inlcludes:
Used TKD Handheld Locator (Receiver)

Used TD Remote Display

Refurbished 86BH – 29 kHz 17" Long Range Transmitter
In stock and job-site ready. Package components available for individual sale. Overnight shipping available.
Features:
The TK Series is the only HDD guidance system equipped with dual locating methods (peak and null) so operators can locate with the method they prefer and, if they choose, verify with the other to further improve their confidence.
The TKD is a dual-frequency tracker that is ideal for medium-size rigs and standard bores. It offers a locating range of up to 110 feet (33.5 m) deep and a tracker-to-rig range of up to 2,000 feet (610 m).
In Drill-To mode, the tracker is placed ahead of the downhole tool and along the intended bore path, providing real-time information the drill operator needs to make corrections on the fly, resulting in faster operation and straighter bores.
Drill-To mode is also used to avoid crossing utilities; by placing the tracker above the utility, the drill operator can make steering choices based on real-time data to ensure obstacle avoidance and safety.
Bore-logging/reporting software provides an "as built" record, a convenient way to show proof of the bore
Beacons are also repairable, which reduces expense and downtime.
Stock number: #Z837
How to use Ditch Witch TK series locating systems
We make trades local dealers cannot match