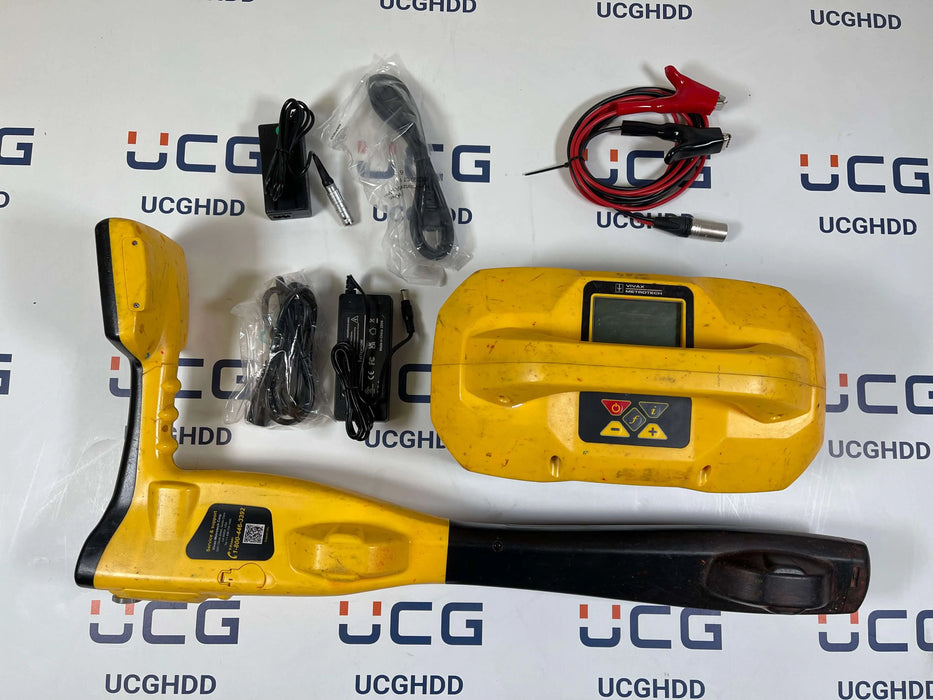 Used Vivax Metrotech vLoc3-Pro & Loc3-10Tx Utility Locator Set. Stock number: V1
Original price
$ 3,300.00
-
Original price
$ 3,300.00
Package includes:
Used vLoc3-Pro Receiver
Used Loc3-10 Transmitter
Used Li-ion Receiver Rechargeable Battery
Used alkaline battery pack

Used Vivax Bags

Used Direct Connection Leads
Description:
The highly user configurable vLoc3 series contains eight passive locate modes, fault-find mode, SD (showing direction of outgoing current), and a range of configurable frequencies from 98Hz to 200 kHz. Visual and mechanical vibration alerts can also be configured by the user providing warnings for shallow depth, overload, overhead cables, and excessive swinging. Plug-in-play options for the receiver include optional Bluetooth module usable with external GPS devices and MLA (marker locator adapter) to locate buried markers.
Financing:

Apply for financing. Low monthly payments.
We accept trade-ins:
We make trades local dealers cannot match. Trade up, trade down with cash-back, or sell your used equipment. Contact us to see what we can do for you!
Warranty:
We offer 30 day warranty. Take the stress out of buying used equipment.
Next-day delivery within USA:
Avoid downtime. Request one-day delivery and get locating package the next day.
We ship worldwide:
We ship worldwide and offer flexible international shipping rates. We work with the freight forwarder of your choice or help you to choose the most suitable one.
Specifications for locator and transmitter:
vLoc3-Pro 
Description and Typical Applications
Item
Parameter
Model Name
vLoc3-Pro
Model Number
VX219-01
Description
Multi-purpose precision locator receiver
Intended Use
Locating & pinpointing the position of buried pipes, cables, and sondes
Characteristics
Item
Parameter
Weight
4.6lbs (2.1kg)
Dimensions
12.6in(L) x 4.9in(W) x 26.6in(H) (321mm x 124mm x 676mm)
Batteries
- Six xAAAlkaline batteries
- Rechargeable custom Lithium-ion batteries with 100-240V AC mains charger
Environmental
- IP65 and NEMA 4
External Connectors
- Accessory Socket – to charge the internal batteries and attach accessories
- Mini USB socket for data transfer and software updates
Temperature Range
- Operating: -4ºF to 122ºF (-20ºC to 50ºC)
- Storage: -40ºF to 140ºF (-40ºC to 60ºC)
Operational
Accuracy
Locate pinpointing accuracy:
- Over 9ft (3m) – 5% of the depth
- Up to 9ft (3m) – 3% of the depth
Depth measurement accuracy:
+/- 5% of depth
Current measurement accuracy:
- 5% of actual current – over 9ft (3m)
- 3% of actual current – up to 9ft (3m)
Depth range:
Dependent on the strength of the signal
radiating to the locator
* Performance rated using a single undistorted signal source
 
Compatible
Transmitters
Loc series, Loc3 series, VM-550FF, VM-560FF, FLS series
 
Shipping and Packaging
Item
Parameter
Shipping Weight
10.5lbs (4.75kg)
Shipping Dimension
16.5in(L) x 11in(W) x 27.6in(H) (420mm x 280mm x 700mm)
Loc3-10Tx
Typical Applications
Item
Parameter
Description
Pipe & cable locator transmitter
Uses
Transmitting active signals for the location of
buried pipes and cables
Transmitter Assembly
Item
Parameter
Weight
11lbs (5kg)
Dimension
16.5in(L) x 7.1in(W) x7.3in(H) (420mm x 180mm x 185mm)
Power Supply
-   Standard battery pack – using 12 x alkaline "D" cells or Ni-MH rechargeable battery pack
- 14.4V
External Connectors
-   1 x 3 pin connection socket–(XLR)
-   1 x socket for battery charger & power in
-   1 x fuse (output protection) 1.25A/250V, 0.2in(Dia.) x 0.8in(L) (5mm x 20mm)
-   1 x USB socket (in base of main transmitter body for loading operating software)
Environmental
Item
Parameter
Temperature Range
Operating    : -4ºF to 122ºF (-20ºC to 50ºC)
Storage       : -40ºF to 140ºF (-40ºC to 60ºC)
Weather Proof
IP54 and NEMA 4
Shipping Weight
38.6lbs (17.5kg)
Shipping Dimension
30.1in(L) x 17.5in(W) x 11.2in(H) (765mm x 445mm x 285mm)
Loc-10Tx Rechargeable Batteries With Tray Accessory
Item
Parameter
Description
10W transmitter rechargeable batteries with tray
Weight
11lbs (3.2kg)
Dimension
16.5in(L) x 6.8in(W) x2.6in(H) (420mm x 172mm x 70mm)
Batteries
12 x rechargeable D cell (Ni-MH) batteries
Temperature Range
Operating             : 0ºF to 122ºF (0ºC to 50ºC)
Storage                : -4ºF to 140ºF (-20ºC to 60ºC)
In stock and job-site ready. Package components available for individual sale. Overnight shipping available.

Order Now By Phone Call: 727-492-6587
We make trades local dealers cannot match