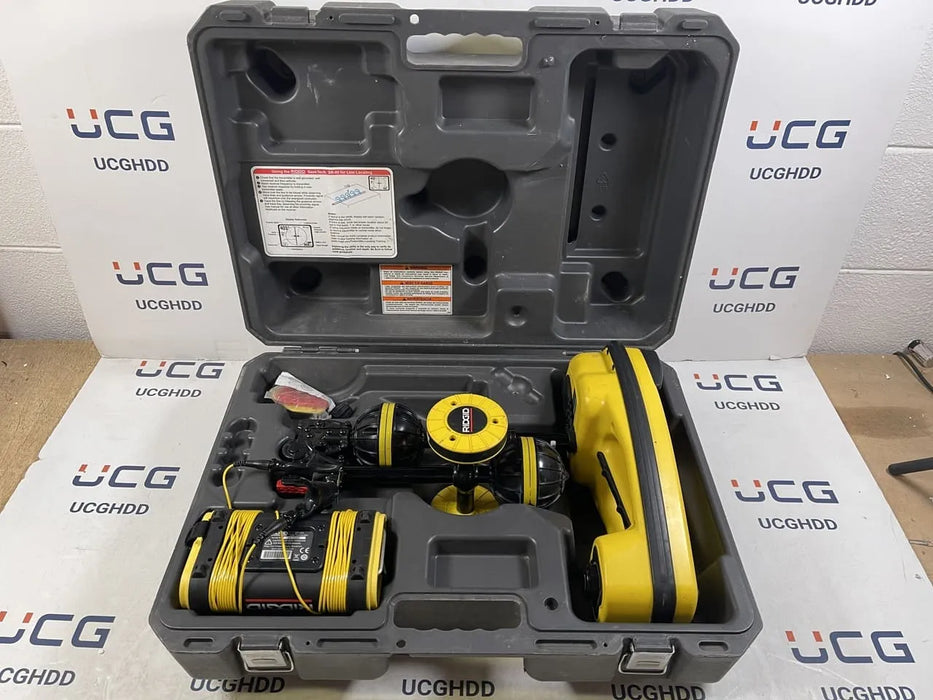 Used SeekTech SR-60 Utility kit. SR-60 Locator & ST-305 Transmitter (condition LIKE NEW) included. Stock number: ST22
Original price
$ 3,490.00
-
Original price
$ 3,490.00
Package includes:
Used SeekTech SR-60 Line Locator (RIDGID 22163) with minor scratches
SeekTech ST-305 Line Transmitter (RIDGID 21898) condition LIKE NEW
Used SeekTech SR-60 Case
Does not include SeekTech 4" (100 mm) Inductive Signal Clamp
All parts are fully tested and in perfect working condition.
Guaranteed to work. Take the stress out of buying used equipment.
Seektech SR-60 locator
For the fastest, easiest, most versatile receiver available.
Choose the SR-60 locator for fast confident locates even under tough locate conditions (poor conductors, poor soil conditions, poor grounding, etc.).
Versatility
Can trace any frequency from 10 Hz to 490 kHz**.
Can trace energized lines and sondes (beacons) simultaneously.
Has all the ease of use and accuracy of the SR-20 but with ALL locatable frequencies.
Specifications
• Active Line Trace Frequencies * – 128 Hz, 1 kHz, 8 kHz, 33 kHz, 51 kHz, 93 kHz, 200 kHz, 262 kHz**.
• Passive Power Trace – 50 Hz, 60 Hz, Passive Radio Trace – 4 kHz-15 kHz, 15 kHz-36 kHz.
• Sonde Frequencies * – 16 Hz, 512 Hz, 640 Hz, 850 Hz, 8 kHZ, 16 kHZ, 33 kHZ.
• Power Source – 4 C-Cell Batteries.
• Battery Life – Approximately 16 Hours.
• Weight – 5.1 lbs. (2.3 kg).
• Meets FCC Class A and EN 55022 Class A requirements
*30 user-definable frequencies can be set from 10 Hz to 490 kHz.
** Up to 93 kHz for devices sold in Europe.
Seektech ST-305 Line Transmitter
The 5-watt SeekTech ST-305 Line Transmitter lets you energize metallic lines for tracing.
• Lightweight and compact transmitter that delivers up to 5 Watts of power.
• Can transmit two frequencies simultaneously.
• Audio feedback confirms a good circuit before beginning a trace
Seektech ST-305 Line Transmitter Specifications
Financing:

Apply for financing. Low monthly payments.
We accept trade-ins:
Trade up, trade down with cash back, or sell your used equipment. Contact us to see what we can do for you!
Next-day delivery within the USA:
Avoid downtime. Request one-day delivery and get the locating package the next day.
We ship worldwide:
We ship worldwide and offer flexible international shipping rates. We work with the freight forwarder of your choice or help you to choose the most suitable one.
Stock Number: ST22
Order Now By Phone Call: 727-492-6587
We make trades local dealers cannot match