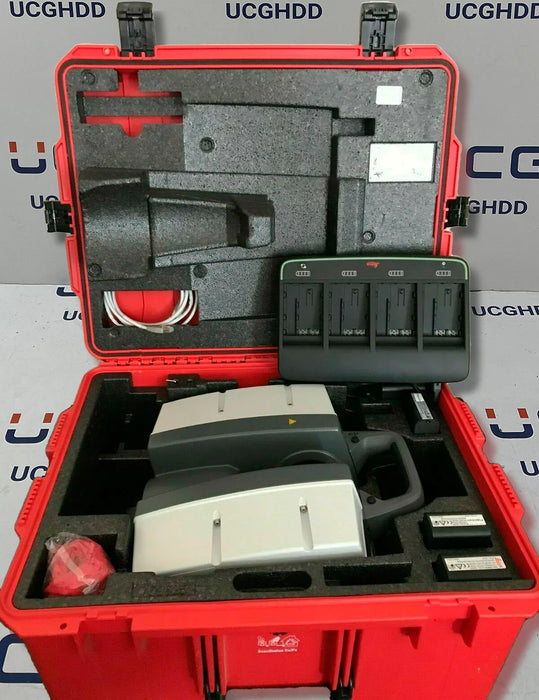 Used Leica ScanStation P50 3D Laser Scanner Kit. Stock number: L113
Original price
$ 45,000.00
-
Original price
$ 45,000.00
$ 45,000.00
-
$ 45,000.00
Current price
$ 45,000.00
Package includes:

used Leica ScanStation P50

used GVP645, ScanStation transport container

used GDF323 Tribrach PRO without optical plummet

used 4x GEB242, Large Li-Ion Battery

used GKL311 Single Charger

used GEV228, ScanStation Pxx data cable

used GHM008, Scanner height meter

used GHT196, Distance holder for height meter.
Financing:

Apply for financing. Low monthly payments.
We accept trade-ins:
We make trades local dealers cannot match. Trade up, trade down with cash-back, or sell your used equipment. Contact us to see what we can do for you!
Warranty:
We offer 30 day warranty. Take the stress out of buying used equipment.
We ship worldwide:
We ship worldwide and offer flexible international shipping rates. We work with the freight forwarder of your choice or help you to choose the most suitable one.

Specifications for Used Leica ScanStation P50 3D Laser Scanner Kit:
LEICA SCANSTATION P50 PRODUCT SPECIFICATIONS
SYSTEM ACCURACY
Accuracy of single measurement **
Range accuracy
1.2 mm + 10ppm over full range (120 m / 270 m mode)
3 mm + 10ppm over full range (570 m / >1 km mode)
Angular accuracy
8" horizontal; 8" vertical
Target acquisition **
2 mm standard deviation at 50 m
Dual-axis compensator
Liquid sensor with real-time onboard compensation, selectable on/off, resolution 1", dynamic range ± 5', accuracy 1.5"
DISTANCE MEASUREMENT SYSTEM
Type
Ultra-high speed time-of-flight enhanced by Waveform Digitising (WFD) technology
Wavelength
1550 nm (invisible) / 658 nm (visible)
Laser class
1 (in accordance with IEC 60825:2014)
eam divergence
< 0.23 mrad (FWHM, full angle)
Beam diameter at front window
≤ 3.5 mm (FWHM)
Range and reflectivity
Minimum range 0.4 m
Maximum range mode | Reflectivity
120 m                                    8%
270 m                                    34%
570 m                                    60%
>1 m                                      80%
Scan rate
Up to 1'000'000 points per second
Range noise *
0.4 mm rms at 10 m
0.5 mm rms at 50 m
Field-of-View
Horizontal
Vertical

360°
290°

Data storage capacity
256 GB internal solid-state drive (SSD) or external USB device
Communications / Data transfer
Gigabit Ethernet, integrated Wireless LAN or USB 2.0 device
Onboard display
Touchscreen control with stylus, full colour VGA graphic display (640 × 480 pixels)
Laser plummet
Laser class 1 (IEC 60825:2014)
Centring accuracy: 1.5 mm at 1.5 m
Laser dot diameter: 2.5 mm at 1.5 m
Selectable ON/OFF
IMAGING SYSTEM
Internal camera Resolution
4 megapixels per each 17° × 17° colour image; 700 megapixels for panoramic image
Pixel size Video
2.2 μm
Streaming video with zoom; auto-adjusts to ambient lighting
White balancing HDR
Sunny, cloudy, warm light, cold light, custom Tonemapped / full range
External camera
Canon EOS 60D/70D/80D supported
POWER
Power supply
24 V DC, 100 – 240 V AC
Battery type
2× Internal: Li-Ion; External: Li-Ion (connect via external port, simultaneous use, hot swappable)
Duration
Internal > 5.5 h (2 batteries)
External > 7.5 h (room temp.)
ENVIRONMENTAL
Operating temperature
–20°C to +50°C / –4°F to 122°F
Storage temperature
–40°C to +70°C / –40°F to 158°F
Humidity
95 %, non-condensing
Dust/Water
Solid particle/liquid ingress protection IP54 (IEC 60529)
PHYSICAL
Scanner
Dimensions (D × W × H)
Weight
238 mm × 358 mm × 395 mm / 9.4" × 14.1" × 15.6"
12.25 kg / 27.0 lbs, nominal (w/o batteries)
Battery (internal)
Dimensions (D × W × H)
Weight
40 mm × 72 mm × 77 mm / 1.6" × 2.8" × 3.0"
0.4 kg / 0.9 lbs
Mounting
Upright or inverted
CONTROL OPTIONS
Full colour touchscreen for onboard scan control.
Remote control: Leica CS10/CS15/CS20/CS35 controller or any other remote desktop capable device, including iPad, iPhone and other SmartPhones; external simulator.
FUNCTIONALITY
Survey workflows and onboard registration
Quick orientation, Set azimuth, Known backsight, Resection (4 and 6 parameters), Traverse
Check & Adjust
Field procedure for checking of angular parameters, tilt compensator and range offset
Onboard target acquisition
Target selection from video or scan
Onboard user interface
Switchable from standard to advanced
One button scan control
Scanner operation with one button concept
Scan area definition
Scan area selection from video or scan; batch job scanning
Used Leica ScanStation P50 3D Laser Scanner Kit package. In stock, and job-site ready. Call for pricing. Package components available for individual sale.
Stock number: L113

Order Now By Phone Call: 727-492-6587