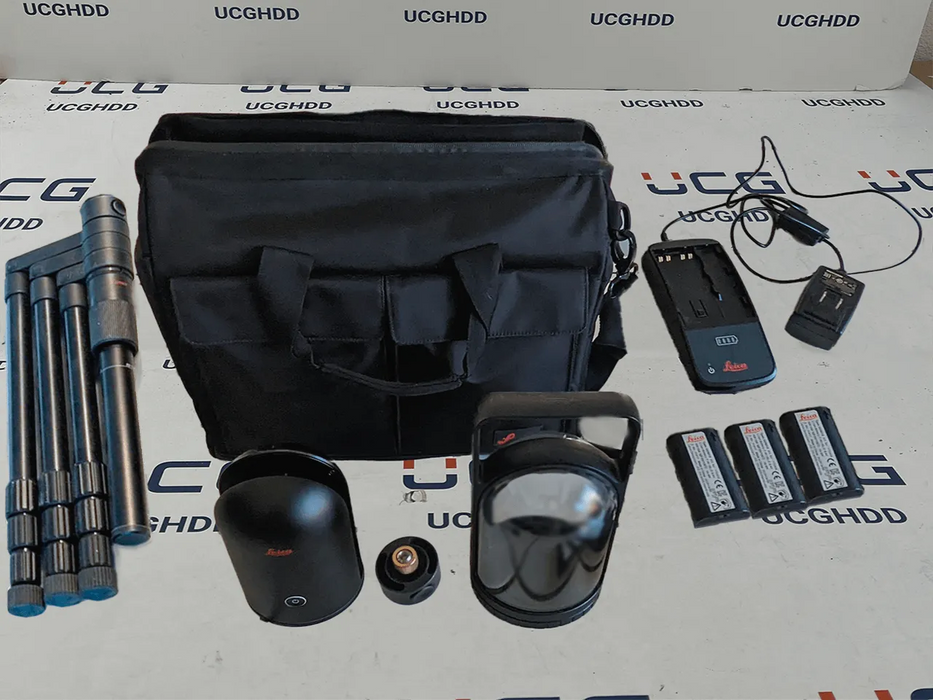 Leica BLK 360 3D Laser Scanner + Tripod + Mission bag. Stock number: L111
Original price
$ 25,000.00
-
Original price
$ 25,000.00
$ 25,000.00
-
$ 25,000.00
Current price
$ 25,000.00
Package includes:
used Leica BLK360 Laser Scanner
used BLK360 battery
used

 BLK360 m

ulticharger

used transportation case
used USB-C cable
used microfiber cloth
used BLK360 tripod
used BLK mission bag
Financing:

Apply for financing. Low monthly payments.
We accept trade-ins:
We make trades local dealers cannot match. Trade up, trade down with cash-back, or sell your used equipment. Contact us to see what we can do for you!
Warranty:
We offer 30 day warranty. Take the stress out of buying used equipment.
We ship worldwide:
We ship worldwide and offer flexible international shipping rates. We work with the freight forwarder of your choice or help you to choose the most suitable one.

Specifications for Leica BLK 360 3D Laser Scanner:
Dimensions
Height: 155 mm
Diameter: 80 mm
Weight
0.75 kg (0.85 kg incl. battery)
Wireless communication
Integrated wireless LAN (802.11 b/g/n)
Internal memory
Storage for up to 1500 setups
Battery type
Internal, rechargeable Li-Ion battery (Leica GEB825)
Capacity
Up to 70 setups per battery
Distance measurement system
High speed time of flight enhanced by Waveform Digitizing (WFD) technology
Laser class
1 (in accordance with IEC 60825- 1:2014)
Wavelength
830 nm
Field-of-view
360° (horizontal) / 270° (vertical)
Range*
Minimum 0.5 m - up to 45 m
Point measurement rate
Up to 680,000 pts/sec
Measurement modes
4 user selectable resolution settings (6/12/25/50 mm @ 10 m)
Camera system
13 Mpixel 4-camera system captures 104 Mpx raw data for calibrated 360° x 270° spherical image
Speed
< 8 sec. for full spherical LDR image in any light conditions < 20 sec. for full spherical 5-brackets HDR image in any light conditions
Robustness
Designed for indoor and outdoor use
Operating temperature
0° C to + 40° C
Dust/Humidity
Solid particle/liquid ingress protection IP54 (IEC 60529)
Used Leica BLK 360 3D Laser Scanner + Tripod + Mission bag package. In stock, and job-site ready. Call for pricing. Package components available for individual sale.
Stock number: L111

Order Now By Phone Call: 727-492-6587