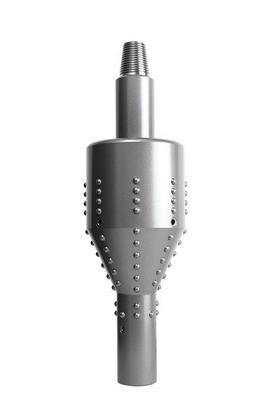 Description
With a solid body foundation, the Crusher can be configured with either short-bodied radius top carbide buttons for hard rock up to 25,000 PSI or chisel-top carbide buttons for softer formations. The carbide buttons are precisely located on independent cutting paths to insure maximum contact within the hole. Replaceable fluid ports deliver drilling fluids exactly where needed to insure smooth and efficient cutting action.
The Crusher's tapered solid-body transitions into full diameter in the back of the tool. The full diameter at the rear promotes tool stabilization in the hole and promotes good cuttings control.  The tools one piece body and shaft design provides maximum strength and extended service life.
Its aggressive design thrives in harsh conditions, such as hardpan, cobble and solid rock. Available in diameters from 4- to 10-inches, the Crusher is the ideal solution for small diameter bores in tough soil conditions.
Shaft size: 3", 3 ½", 4 ¼", 4 ¾" 
Size range: 4" – 10"